{category.name}
Please note: All items featured in this catalog may not be available at both locations ‐ but we would be more than happy to order them for you.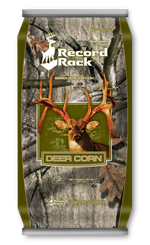 UPC: 722304239923
Manufacturer: Record Rack
SKU: 45045000
Model Number: 45045
Record Rack® Super Premium sweet Deer Corn is an excellent source of energy for deer-and it is comprised of select, test-weight corn for high energy and high nutritional value. Double cleaned to remove foreign material and to remove dust. Also, this is tested to guarantee aflatoxin levels are less than 20 PPB. This is safe for all wildlife critters, including quail and other gamebirds.
This can be hand-fed as an energy supplement, offered with natural forage, or as part of a balanced diet.
*Currently this is only available at the Owego Agway. Stop in to pick up a bag, today!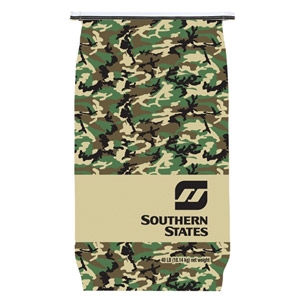 Manufacturer: Southern States
SKU: 57351056
Model Number: 57351056
Southern States Wildlife Corn (w/Molasses) is designed for wildlife, turkeys and deer. It is a highly palatable mix of corn coated with molasses. When feeding to wildlife, turkey and deer raised in confinement, feed along with adequate forage and water. See "Warning" on feed tag before feeding to wild deer. Wildlife Corn (w/Molasses) should be used to supplement the natural diet of wildlife to provide additional energy for growth and development.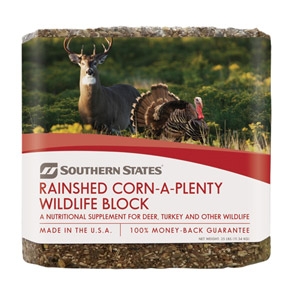 Manufacturer: Southern States
SKU: 57969032
A nutritional block supplement for deer, turkeys and other wildlife, Southern States Rainshed Corn-A-Plenty Wildlife Block is designed to supplement natural vegetation. This block provides essential protein, energy, minerals, trace minerals and vitamins important for growth of deer and antler development of bucks. 25 Pound. Rainshed technology does not allow the block to crumble when wet.
We are constantly adding new specials to our site. Be sure to check back often!
Sign up for exclusive offers, information and updates!