{category.name}
Please note: All items featured in this catalog may not be available at both locations ‐ but we would be more than happy to order them for you.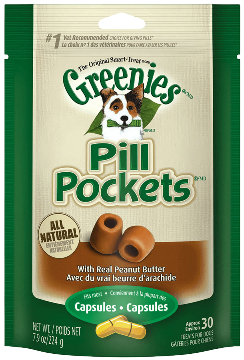 UPC: 642863101281
Manufacturer: Greenies Dental Chews & Treats
SKU: 77428271
Model Number: 140310
Greenies Pill PocketsTreats have built-in pouches to easily hide pills and ensure your dog takes their medication. These all-natural treats are a healthier alternative to using human foods, because they have fewer calories and less fat and sodium. Make pill-giving more enjoyable for both you and your dog.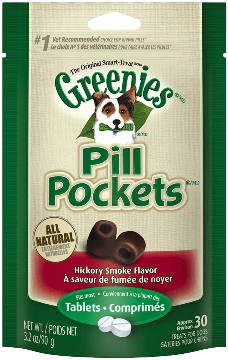 UPC: 642863101250
Manufacturer: Greenies Dental Chews & Treats
SKU: 77428272
Pets are smart about avoiding their meds, but you're smarter. Designed and recommended by vets, GREENIES™ PILL POCKETS™ Treats for Dogs make it easy to give your dog medicine. Don't hide medicine in human foods, such as peanut butter or cheese. Give a healthy, low-calorie dog treat instead. GREENIES™ PILL POCKETS™ Treats take the stress and mess out of administering tablets or liquid medication to your dog. Our easy-to-use pouches mask the smell and taste of medicine and deliver a delicious hickory smoke flavor your dog will love.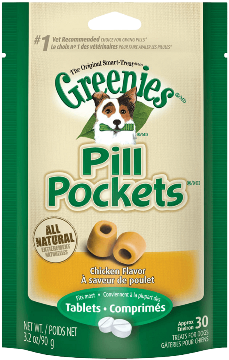 UPC: 642863045394
Manufacturer: Greenies Dental Chews & Treats
SKU: 77428266
Model Number: 140324
Greenies Pill Pockets treats for dogs are a proven solution to your pill-giving problem. These nutritious treats contain a built-in pocket, perfect for hiding a pill or supplement. Plus, dogs love the taste so much that they won't even notice there's medicine inside! Recommended by veterinarians, Pill Pockets not only help with the delivery of medication, they are also a source of vitamins C and E to promote a healthy immune system. Pill Pockets treats come in convenient sizes to match your pill size. Large fits most capsules and small fits most tablets. Both sizes are available in beef and chicken flavors.
We are constantly adding new specials to our site. Be sure to check back often!
Sign up for exclusive offers, information and updates!