{category.name}
Please note: All items featured in this catalog may not be available at both locations ‐ but we would be more than happy to order them for you.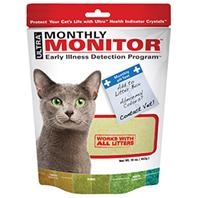 UPC: 633843107188
Manufacturer: Ultra Pet
SKU: 40635430
Model Number: 10718
• An Early Illness Detection Program That Is Easy To Use and Works With All Types Of Litter
• Simply Pour On Top Of A Newly Filled Litter Box
• After Your Cat Uses The Litter Box, Wait At Least 10 Minutes
• Compare The Color Of The Monthly Monitor Crystals To The Color Scale
• If The Crystals Are An Abnormal Color, It Is Recommended You Contact Your Veterinarian
• The Crystals Are A Normal Color, Its Okay To Stir Them In With Your Litter To Help Control Odor
*Please call ahead to check availability.
We are constantly adding new specials to our site. Be sure to check back often!
Sign up for exclusive offers, information and updates!