{category.name}
Please note: All items featured in this catalog may not be available at both locations ‐ but we would be more than happy to order them for you.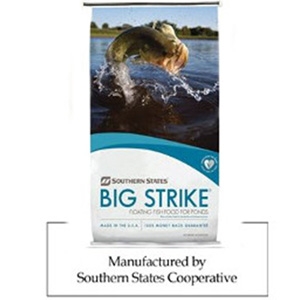 UPC: 756637230272
Manufacturer: Southern States
SKU: 58220066
For a healthier pond and bigger fish, use Southern States Big Strike Fish Food for supplemental feeding. Southern States Big Strike is a 32% protein floating fish food formulated specifically for warm water species such as, Largemouth Bass, Bluegill, Sunfish and Catfish. 40lb
We are constantly adding new specials to our site. Be sure to check back often!
Sign up for exclusive offers, information and updates!