{category.name}
Please note: All items featured in this catalog may not be available at both locations ‐ but we would be more than happy to order them for you.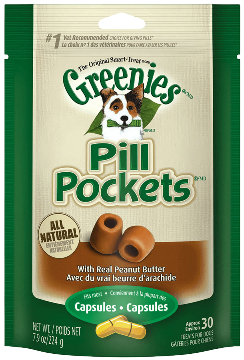 UPC: 642863101281
Manufacturer: Greenies Dental Chews & Treats
SKU: 77428271
Model Number: 140310
Greenies Pill PocketsTreats have built-in pouches to easily hide pills and ensure your dog takes their medication. These all-natural treats are a healthier alternative to using human foods, because they have fewer calories and less fat and sodium. Make pill-giving more enjoyable for both you and your dog.
We are constantly adding new specials to our site. Be sure to check back often!
Sign up for exclusive offers, information and updates!