{category.name}
Please note: All items featured in this catalog may not be available at both locations ‐ but we would be more than happy to order them for you.
Manufacturer: Mars Petcare
SKU: 77428260
Feline Greenies® Pill Pocket™ Treats have built-in pouches to easily hide tablets or capsules and ensure your cat takes their medication. These all-natural treats are a healthier alternative to using human foods, because they have fewer calories and less fat and sodium. Plus, they're made with real chicken and natural salmon proteins for a great taste. Make medicine-giving more enjoyable for both you and your cat.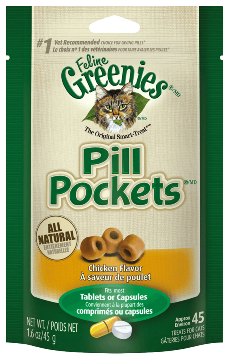 UPC: 642863021411
Manufacturer: Greenies Dental Chews & Treats
SKU: 77428261
Model Number: 140352
Patented Pill Pockets take the hassle out of medicating your cat, while providing your them with a healthy treat. Made from all human-grade meats, Pill Pockets completely conceal medicinal odors and taste so good that your cat won't know there's medicine inside. Contains probiotics for intestinal health and vitamins C & E to promote a healthy immune system. Material is easy to pinch closed and fits both capsules and tablets.
We are constantly adding new specials to our site. Be sure to check back often!
Sign up for exclusive offers, information and updates!