{category.name}
Please note: All items featured in this catalog may not be available at both locations ‐ but we would be more than happy to order them for you.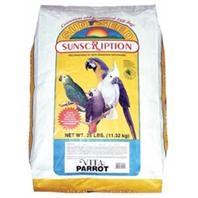 Manufacturer: Vitakraft/Sunseed
SKU: 40079443
Model Number: SUN14410
A high-variety blended diet for parrots with seeds, vegetables, tropical fruit, and fortified nutrients. Vita Prima Sunscription® Parrot Formula was designed to meet the nutritional needs of companion parrots. The delicious, grain and seed-based formula is the high-quality diet that parrots want, and pet parents trust to supply their companions with all the key essential nutrients needed to stay healthy and happy!
• Blend Containing Tropical Fruits, Coconut, Apples, Raisins, Peanuts, Sweet Potato, Veggies & Added Vitamin A
• The Addition Of Vita-Bite Crumbles Adds Vitamins and Minerals Normally Not Found In Straight Seed
• Ideal For Larger Conures, African Greys, Amazons, Cockatoos, Macaws & Other Large Hookbills
*This is currently only available at the Owego Agway
We are constantly adding new specials to our site. Be sure to check back often!
Sign up for exclusive offers, information and updates!