{category.name}
Please note: All items featured in this catalog may not be available at both locations ‐ but we would be more than happy to order them for you.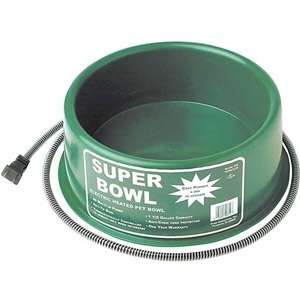 Manufacturer: Farm Innovators
SKU: 10025261
Model Number: P-60
Large 1-1/2 gallon capacity. Thermostatically controlled to operate only when necessary. Heavy-duty "anti-chew" cord protector. Great for large dogs. Guaranteed for one year.
UPC: 750433200637
Manufacturer: Farm Innovators
SKU: 95508809
Model Number: TC-3
Thermostatically controlled outlet works with any 120V electrical device to turn the power to the device on and off according to ambient air temperature.
When temperatures fall below 35 Degrees Farenheit---The Thermo Cube™ will activate, powering up the electrical device automatically. When the temperatures then rise Above 45 Degrees Farenheit, it will automatically shut the device off. This saves you electricity and wear & tear on your equipment.
Typical Applications Include: Well House Heaters, Greenhouse heaters, Pond De-Icers, Heat Lamps, Heat Tape, & Engine/Battery Heaters. UL & SA Listed. Can Operate 2 Devices.
Maximum Rating: 1800 Watts, 15 Amps, 120V AC. To be used ONLY with GFCI Outlets.
Made in the USA
We are constantly adding new specials to our site. Be sure to check back often!
Sign up for exclusive offers, information and updates!