{category.name}
Please note: All items featured in this catalog may not be available at both locations ‐ but we would be more than happy to order them for you.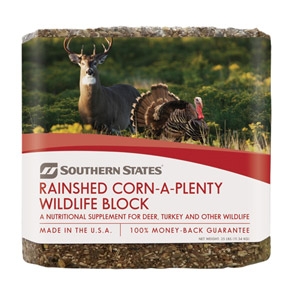 Manufacturer: Southern States
SKU: 57969032
A nutritional block supplement for deer, turkeys and other wildlife, Southern States Rainshed Corn-A-Plenty Wildlife Block is designed to supplement natural vegetation. This block provides essential protein, energy, minerals, trace minerals and vitamins important for growth of deer and antler development of bucks. 25 Pound. Rainshed technology does not allow the block to crumble when wet.
We are constantly adding new specials to our site. Be sure to check back often!
Sign up for exclusive offers, information and updates!