{category.name}
Please note: All items featured in this catalog may not be available at both locations ‐ but we would be more than happy to order them for you.
UPC: 032247996051
Manufacturer: SharkBite | Cash Acme
SKU: 10207932
One application kills and prevents all season (4 months) - guaranteed! Kills 25% more grub types. Improved killing power with 60% less active ingredient.
UPC: 613499020024
Manufacturer: GardenTech
SKU: 10200919
Model Number: 100047720
When unwanted bugs invade your garden, you need simple control you can count on. Stopping pests and their damage doesn't get easier. Shake the spray bottle, and it's ready to go. Sevin® Ready-to-Use kills and control pests on flowers, ornamentals, fruits and vegetables. Take control over insect pests, and get back to bountiful harvests and garden fun.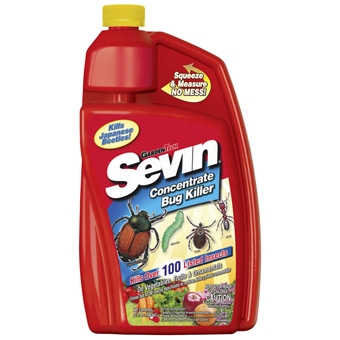 UPC: 613499071019
Manufacturer: Sevin
SKU: 10200924
Model Number: 100523621
Kills over 100 insect pests. For use on vegetables, fruits and ornamentals! When insect pests call for full-scale response, you need a straightforward solution you can trust. Our easy-to-use measuring cap makes it simple to measure just the right amount of concentrate. Pour it into a sprayer, add water, and you're set. Sevin® Concentrate Bug Killer kills and controls unwanted bugs in ornamental and edible gardens, and handles nuisance insects around your home's perimeter.
Use at the first sign of insect damage or unwanted bugs.
Use with a pump-style tank sprayer (best for spot treatments) or a hose-end sprayer (best for large areas).
We are constantly adding new specials to our site. Be sure to check back often!
Sign up for exclusive offers, information and updates!