{category.name}
Please note: All items featured in this catalog may not be available at both locations ‐ but we would be more than happy to order them for you.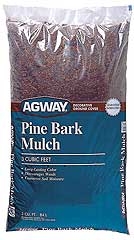 UPC: 739088767405
Manufacturer: Mulch Manufacturing
SKU: 10202313
Agway Pine bark Mulch is a decorative ground cover that comes in a big 3 cubic foot size. It has a long lasting rich brown color and chip about inch in size. Mulch discourages weeds and conserves soil moisture.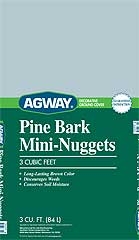 UPC: 739088767412
Manufacturer: Mulch Manufacturing
SKU: 10202314
Agway® Pine Bark Mini-Nuggets are a great ground cover for most applications. It has a rich long lasting color and a chip about 1 inch in size. Aids in discouraging weeds and conserving soil moisture. The big 3 cubic foot size makes this an economical choice for any yard application.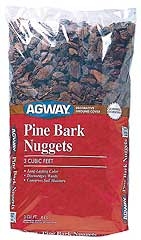 UPC: 739088767429
Manufacturer: Mulch Manufacturing
SKU: 10202315
This is a great decorative ground cover for large planting beds. Our pine nuggets are made from 100% southern pine bark and sized between 2 & 3 inches.
We are constantly adding new specials to our site. Be sure to check back often!
Sign up for exclusive offers, information and updates!