{category.name}
Please note: All items featured in this catalog may not be available at both locations ‐ but we would be more than happy to order them for you.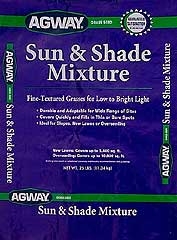 UPC: 756637175634
SKU: 02100050
Model Number: 02100050
Sun and Shade has been formulated with turf type perennial ryegrass, creeping red fescue, and Kentucky bluegrass to adapt to both shady and sunny conditions. It blends with existing turf grasses in a lawn area well. Is tolerant to medium traffic and requires medium to low maintenance. One 25 lb. bag seeds 5,400 square feet for new lawns and 10,800 square feet for over seeding.
We are constantly adding new specials to our site. Be sure to check back often!
Sign up for exclusive offers, information and updates!