{category.name}
Please note: All items featured in this catalog may not be available at both locations ‐ but we would be more than happy to order them for you.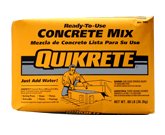 UPC: 039645110164
Manufacturer: Quikrete
SKU: 51110160
Model Number: 1101
QUIKRETE® Concrete Mix (No. 1101) is the original 4000 psi average compressive strength blend of portland cement, sand, and gravel or stone. Just add water. Use for any general concrete work.
Use for Setting Posts and Building:
Sidewalks
Floors
Steps
Patios
Curbs
Downspout Troughs
We are constantly adding new specials to our site. Be sure to check back often!
Sign up for exclusive offers, information and updates!