{category.name}
Please note: All items featured in this catalog may not be available at both locations ‐ but we would be more than happy to order them for you.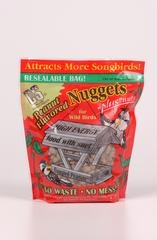 UPC: 000000000000
SKU: 06667254
Model Number: CS06105
Rendered beef suet, peanuts, corn and raisins can be fed alone on a platform feeder or Nugget/Peanut feeder. Ideal when mixed with 5-10 lbs. of seed in a traditional feeder. Resealable bag.
We are constantly adding new specials to our site. Be sure to check back often!
Sign up for exclusive offers, information and updates!