{category.name}
Please note: All items featured in this catalog may not be available at both locations ‐ but we would be more than happy to order them for you.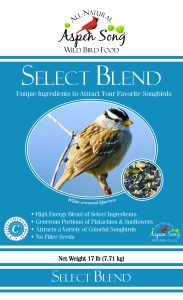 UPC: 094922448729
Manufacturer: Aspen Song
SKU: 20966572
Model Number: 966572
Aspen Song® Select Blend® is made up of Select Ingredients that are sure to attract your favorite songbirds
A High Energy Mix of Unique Ingredients
Generous Percents of Sunflowers and Pistachios
Attracts a Variety of Colorful Songbirds
No Filler Seeds
Ingredients: Black Oil Sunflower, Cracked Corn, White Proso Millet, Pistachios, Safflower, and Steam-crimped Corn.
UPC: 094922966650
Manufacturer: Aspen Song
SKU: 2966650
Model Number: 966650
Attracts Finches, Siskins, Redpolls & More! Sized for the Finch Family. Expect a Goldrush! For Finch Tubes Only.
Aspen Song® Finch is ideally formulated for these small perching birds. It contains Fine Sunflower Pieces, Small Yellow Millet, Nyjer® Seed, Canary Seed, and Canola Seed. The contents may be tiny in size, but are packed with nutrition for this energetic group. And all are food magnets to the finch family of birds.
Ingredients: Fine Sunflower Pieces, Small Yellow Millet, Nyjer, Canary Seed, & Canola Seed
We are constantly adding new specials to our site. Be sure to check back often!
Sign up for exclusive offers, information and updates!