{category.name}
Please note: All items featured in this catalog may not be available at both locations ‐ but we would be more than happy to order them for you.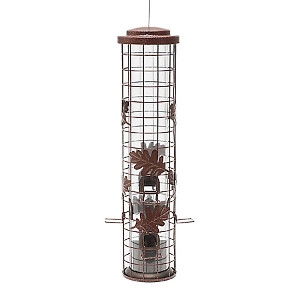 UPC: 078978112711
SKU: 40683964
This Perky-Pet® Squirrel-Be-Gone® Cylinder Wild Bird Feeder features weight-activated seed protection and bird-preferred u-shaped perches. When a squirrel climbs on this feeder, its weight triggers ornate metal leaves to slide down and cover each of the six feeding ports to block the squirrel from feeding.
UPC: 047977004983
Manufacturer: Heritage Farms
SKU: 40301105
Model Number: 7458
The Mini Absolute 2™ Bird Feeder has a metal roof that locks securely to keep those pesky squirrels out of the hopper. Includes heavy-duty hanger. Easy to fill and clean. Made from powder coated steel for durability.
Holds 4#'s of Birdseed
We are constantly adding new specials to our site. Be sure to check back often!
Sign up for exclusive offers, information and updates!