{category.name}
Please note: All items featured in this catalog may not be available at both locations ‐ but we would be more than happy to order them for you.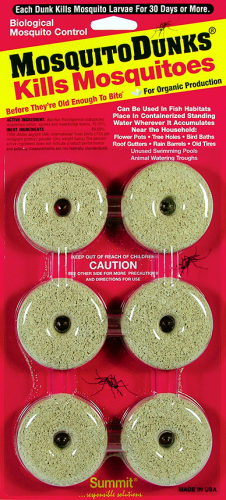 Kills Mosquitoes before They're Old Enough to Bite!® The Mosquito Dunks® are America's best selling home owner mosquito control product. The only product with BTI, a bacteria toxic only to mosquito larvae, that lasts 30 days and treats 100 square feet of surface water.
Non-toxic to all other wildlife , pets, fish, and humans.
Simply apply Mosquito Dunks® to any standing water, or water garden.
Kills within hours lasts for 30 days or more.
Labeled For Organic Gardening by the USEPA.
Highly effective low impact product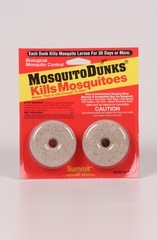 UPC: 018506001025
Manufacturer: Summit Industries
SKU: 10202740
The active ingredient is (Bacillus Thuringiensis Israelensis) BTI, a naturally occurring bacterium that's deadly to both mosquito larvae and fungus gnat larvae. These dunks can be used in fish habitats, placed in standing water containers such as;flower pots, tree holes, bird baths, rain barrels, roof gutters, old tires, unused swimming pools and even watering troughs. Each dunk kills mosquito larvae for 30 days or more.
We are constantly adding new specials to our site. Be sure to check back often!
Sign up for exclusive offers, information and updates!