{category.name}
Please note: All items featured in this catalog may not be available at both locations ‐ but we would be more than happy to order them for you.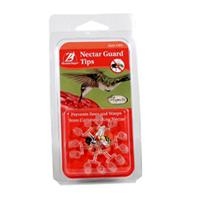 UPC: 026451123846
Manufacturer: Aspects
SKU: 40179115
Model Number: 384
These tips easily slide onto the feeding ports on the underside of feeder covers. The flexible membrane in the middle of the tip opens and closes when hummingbirds insert and remove their beaks. The membrane can not be penetrated by flying insects, making it less annoying to feed the hummingbirds! 1 pack includes 12 "tips".
Made in the USA
We are constantly adding new specials to our site. Be sure to check back often!
Sign up for exclusive offers, information and updates!